Our tour moved up a few months due to my friend Steve's son starting a job soon and as luck would have it the weather turned out better than expected. There was a seven day window there with lower than normal temperatures and let me tell you that was greatly appreciated. With my delay in getting to Steamboat I met up with the guys in Buffalo, WY after a day on the highway while they rode from Rapid City and squeezed in a mix of dirt and road. Let the good times roll!
The second day started with a beautiful canyon section through the Big Horn mountains before dropping down into the desert to Cody. I had route planned this day and the afternoon ride was a ton of fun starting on an abandoned road and finishing on some fun dirt. We opted out of a second possible dirt section as it was getting late and everyone was tired.
The next morning we decided to backtrack a few miles to squeeze in the section we missed the day before. Everyone was happy we did because it lead to a cool hill climb with great views and an interesting trail. Not content to keep it simple after leaving Cody and climbing into the Custer Gallatin forest we chose to follow a trail that spurred off of Chief Joseph byway. Damn, this day was turning out aces. The trail was fun with a few technical sections leading to some amazing views of the mountains and valley. Back on the road we took on Beartooth pass which is a fun twisty road. There was construction which actually helped as it created a gap in the traffic allowing for some spirited driving. That dropped us down into Red Lodge where we were bummed to learn our favorite steak house was closed that night.
The next day started with some rain and a river/mud crossing. Everyone keep their bike up and we cruised along a fun section. After a bit of road we deviated again to the area where they do mining. Always a favorite. Back into the Big Horns we powered up and down the highway enjoying the twisties and pushing the envelope of our bikes. A nice fast section of dirt lead us to Sheridan.
The Big Horns have some great trails and scenery, so back up we went into the canyon from a few days earlier. More rain had us concerned but the trails were passable and the benefit was low clouds making for a pretty start to the day. Down the mountains on pavement dumped us into the desert before crawling back up to a favorite of mine CR 10. This road is double track that runs for 22 miles most of it above the tree line along the mountain ridges. It is funny how things change year over year, as the trail was much less technical than in years past with no difficult or particularly challenging sections. For the decent we opted for an awesome dirt road back to Sheridan. I lead and it was a breakneck pace. Just blasting down the hill and nearly reckless regard for safety. So much fun. Dumping back into Sheridan, where we learned a mistake was made in booking our hotel and our reservation was in Buffalo 30 miles south. Oh well.
The last day began with a long highway section before getting back on dirt for the vast majority of the remainder of the trip. Fun, pretty valleys and canyons led us into the Black Hills. But just before getting there Connor's gear shifter came loose. Thankfully the bolt was still there and twenty minutes later we were on the road again. Not content with taking it easy Mike led us on a very technical trail that isn't normally used by big adventure bikes. There is a particularly nasty decent on a rocky rutted out section about a quarter of a mile long before a slightly easier rocky climb. Not be done yet we then battled a crap ton of muddy sections (ponds) due to a lot of rain the day before. Only one of us got caught by the slick conditions going down but no injury or harm to the bike, so all it good That section behind us it was a short hop back to Mike's place. Whew. What an amazing trip!
After cleaning the mud off the bikes and some lunch, we headed to Mike's trabin to celebrate and get in some wake surfing. Good times and much bourbon was consumed that night.
I wrapped up my trip with another day on the water with Mike and his family. Even trying my hand at wake boarding – quickly learning I am getting to old for that non-sense. In the afternoon we rafted up with a four other boats and enjoyed a day on the water.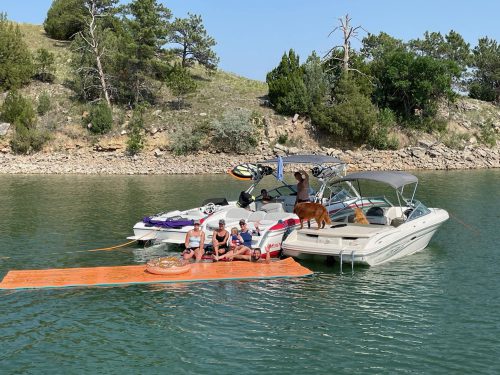 Time to say goodbye, I hit the road at 5:30am for the 400 mile trek back to Steamboat. Stopping in Wheatland for breakfast where an old-timer offer me a seat at his table. We had a thoroughly enjoyable conversation and I swear everyone that was leaving stopped to chat with my table mate, John. I have a hunch he is a wealthy cattle farmer in the area. Belly full it was time for me to press on home. A great week with great friends.