Two engines means two chances to get it right. Or to screw it up…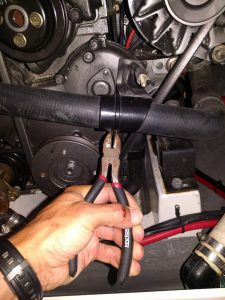 Clip the zip tie holding the coolant hose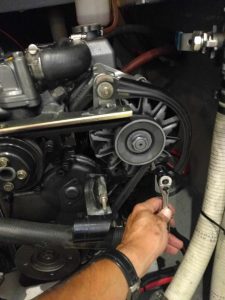 Remove the alternator belt guard
Remove the lower bolt from the back side of the alternator

Loosen both the front and back bolt holding the alternator
Remove the alternator belt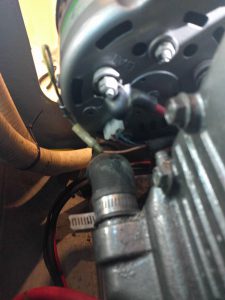 Remove the alternator cables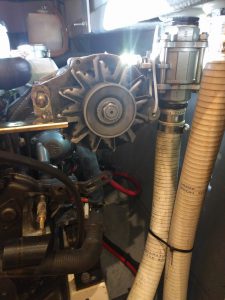 Zip tie the alternator up to get access to the heat exchanger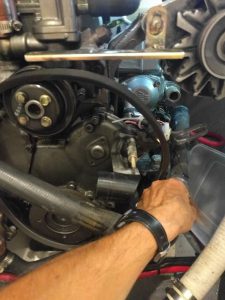 Place a bucket under the rear coolant line, where it exits the heat exchanger
Unscrew the hose clamps and remove the rear hose letting the coolant drain
Close the raw water thru-hull (on the saildrive)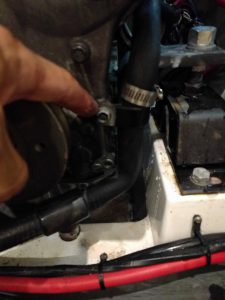 Remove Raw water hose clamp
Loosen the Raw water hose clamps and remove the raw water hose
Remove the three Allen head bolts that hold the cover on the heat exchanger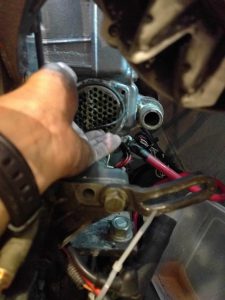 Remove the o-ring on the heat exchanger
Unbolt the Exhaust Mixing Elbow (four bolts)
Rest the Elbow out of the way
Remove the three Allen head bolts that hold the rear cover on the heat exchanger
Using a block of wood and a rubber mallet, gently tap the heat exchanger from the FRONT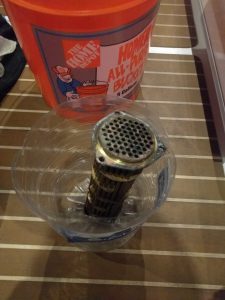 Place the Heat Exchanger in a container and soak in CLR
The scrub the Heat Exchanger and use a brush to clean the tubes under clean water.
Soak hoses in CLR until they stop bubbling and rise with plenty of water.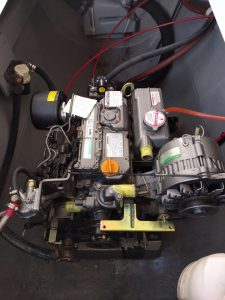 Treat any corrosion – sandpaper down to bare metal, wipe with acetone, primer paint, and finally engine paint. Wait 24 hours between each step.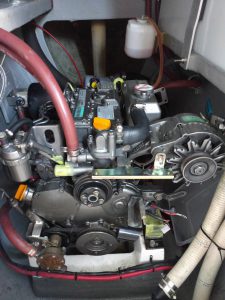 Primed and ready for engine paint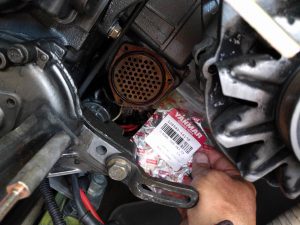 There are 4 o-rings for the heat exchanger. Best to use new o-rings and coat with Sil-Glyde lubricant.
Be sure to use a new exhaust mixing elbow gasket and use a razor blade to clear off the old gasket material on both the elbow and the heat exchanger.
Reassemble in the opposite order
Fill the coolant with AC Delco Cool Dex and distilled water (4.6L)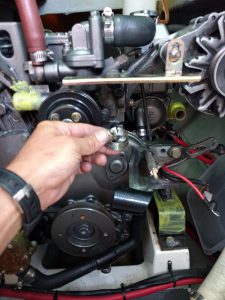 Check those hose clamps. Stainless or not they can fail.
I took my time, didn't rush, and this job took about 6 hours start to finish per engine (excluding waiting for paint to dry…).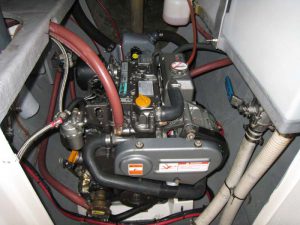 Now I have a nice clean engine, ready for many more hours of happy operation!